It's that time of season again. There's a crispness in the air, pumpkin is in everything, and Missouri S&T's Solar House Design Team is promoting sustainable living.
The team just shipped its Nest Home, named for its nature-driven approach, to the U.S. Department of Energy Solar Decathlon in Irvine, California. And while team members may not build a new house every autumn, you can bet that at this time of year since 2001 they have either been preparing a house for the competition or devising plans for a future Solar Decathlon entry.
Vote for the Nest Home to win the People's Choice Award.
Here's what you should know about Missouri S&T's sixth solar house:
Structure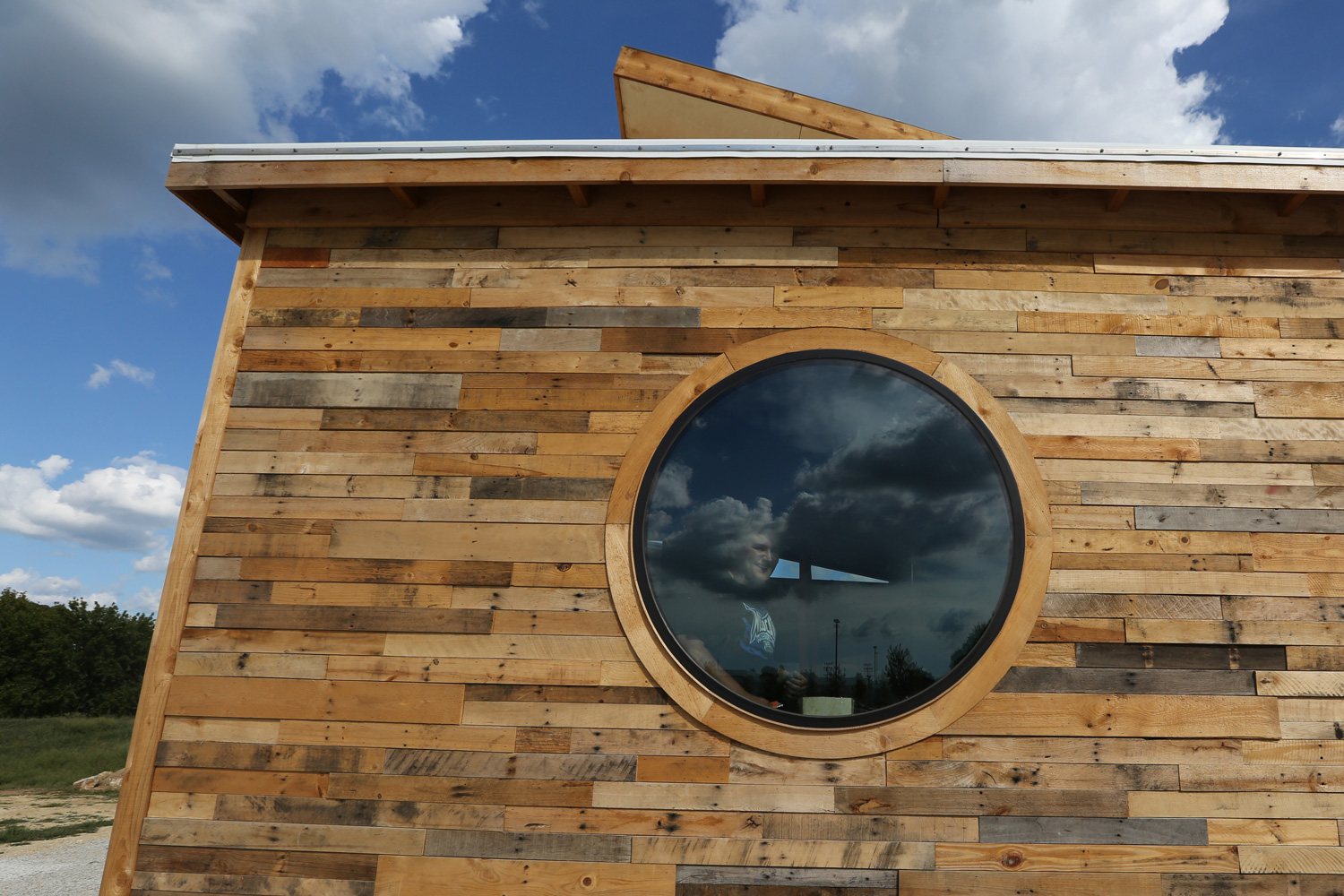 Using three re-purposed shipping-containers, the Nest Home has a flexible, expandable structure that can be constructed and moved more cost-effectively than the team's previous houses. Instead of just smashing together the containers, the team made the house into a deconstructed triangle to improve the interior space.
"The design makes it something that's different," says team member Maddie Jung, an architectural engineering major from St. Louis. "It's not a square shaped building."
Mimicking nature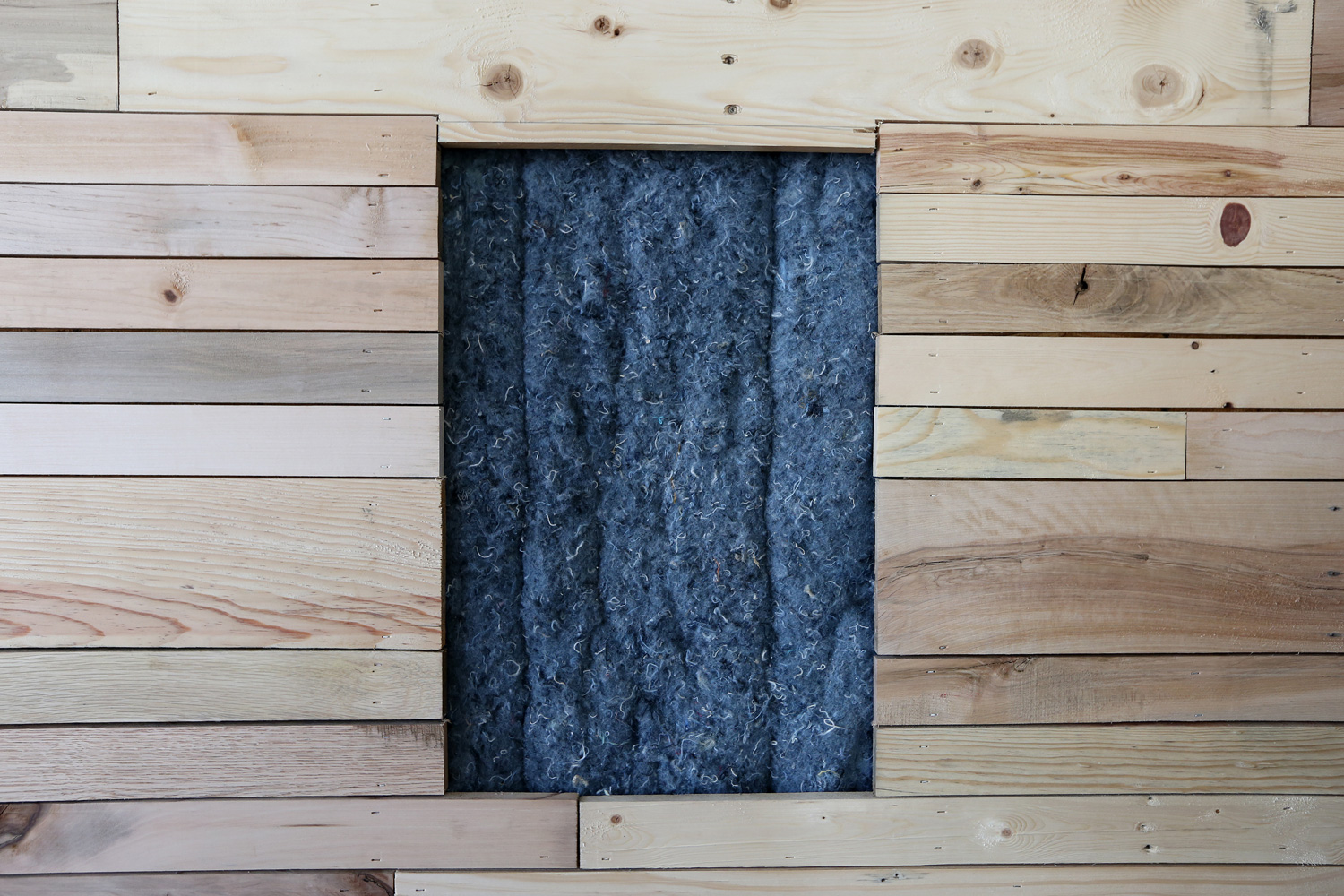 Yes, the Nest Home is a warm, cozy space, but that's not why it earned its name. Just as a bird's nest is constructed from various twigs, leaves and other salvaged items, the house is intricately built of myriad local, re-purposed materials. Its siding is made from 175 shipping pallets from around Rolla that were ripped down to be put on the house. In addition to the three shipping containers, the house also uses recycled steel. Its interior walls incorporate recycled denim as insulation – adding soundproofing and insulation to the rooms. The carpet tiles are made from discarded fishnets. Even its kitchen cabinets are recycled, coming from the Habitat for Humanity Saint Louis ReStore.
"Everything we've been doing with the house uses a lot of DIY, reusable materials," says Nolan Severson, the team's director of construction and a mechanical engineering major from Clinton, Illinois. "We made our own concrete counter tops with crushed glass collected from campus. Many of our light fixtures are reused objects, such as an old well pulley for our main dining table light and a mason jar fixture in the bathroom."
High-tech living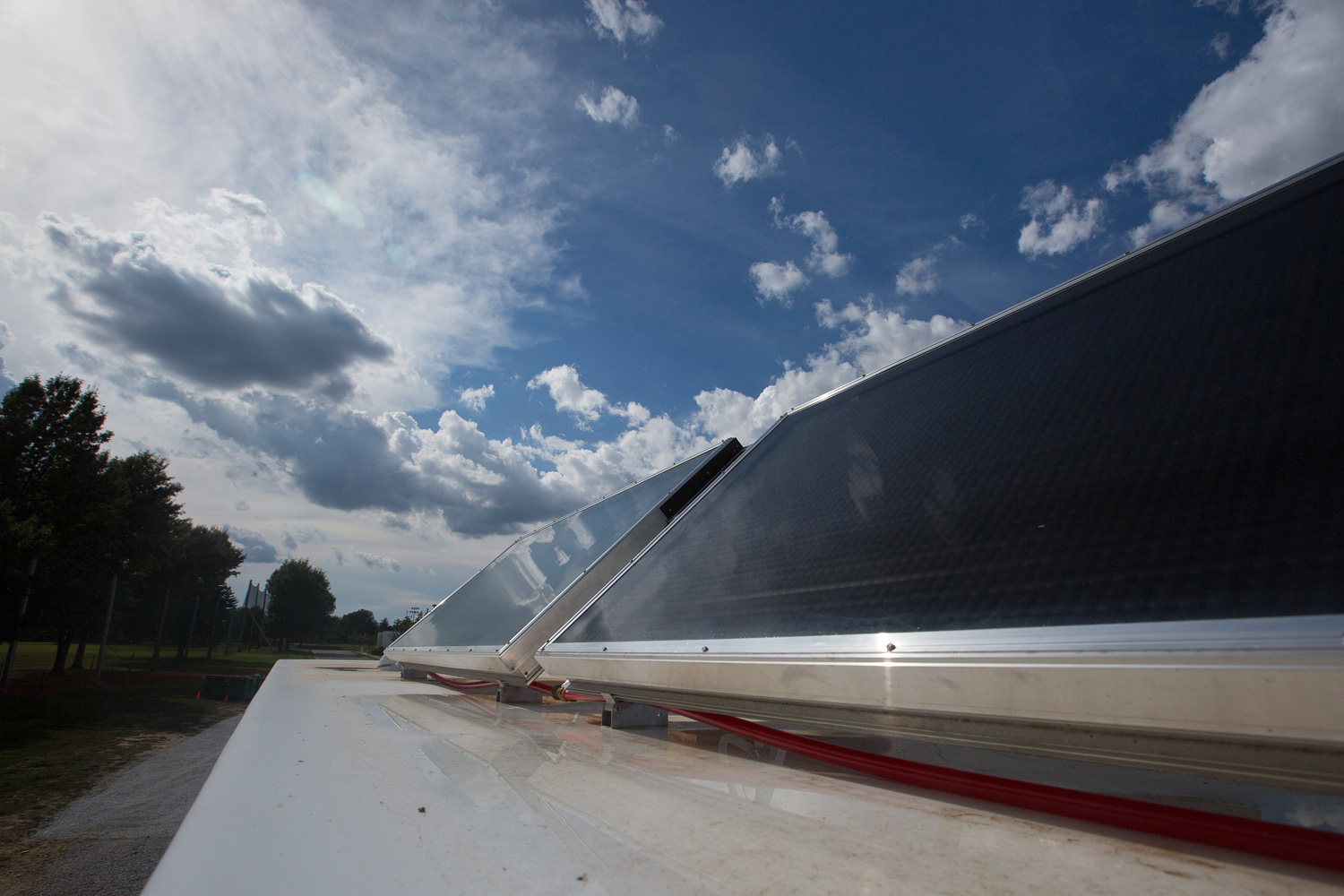 Missouri S&T's solar houses typically incorporate the latest technology, and this year's home doesn't disappoint. For example, this year the team shifted away from the practice of using common central inverters in favor of micro-inverter solar panels. The switch gives each panel the ability to perform to its maximum potential.
"If one solar panel goes out, we don't lose efficiency in the entire array," says Leann Krieger, an electrical engineering senior from Pevely, Missouri.
The new panels will also give the house enough load to power a Nissan LEAF.
"The whole point of the competition is to show that the homes are feasible to live in," Krieger says. "Since many people are looking to move to using electric cars, this will show that the Nest Home could meet that need as well."
The team also installed a home-automation system to regulate the interior environment. The system manages everything from its lighting and home entertainment equipment to the home's heating and cooling.
"It uses a predicted algorithm to see what the weather will be like to save as much energy as possible," says Brandon Lile, a computer science senior from Leawood, Kansas. "We have a Raspberry Pi that communicates with a website I coded."
Perfect space for family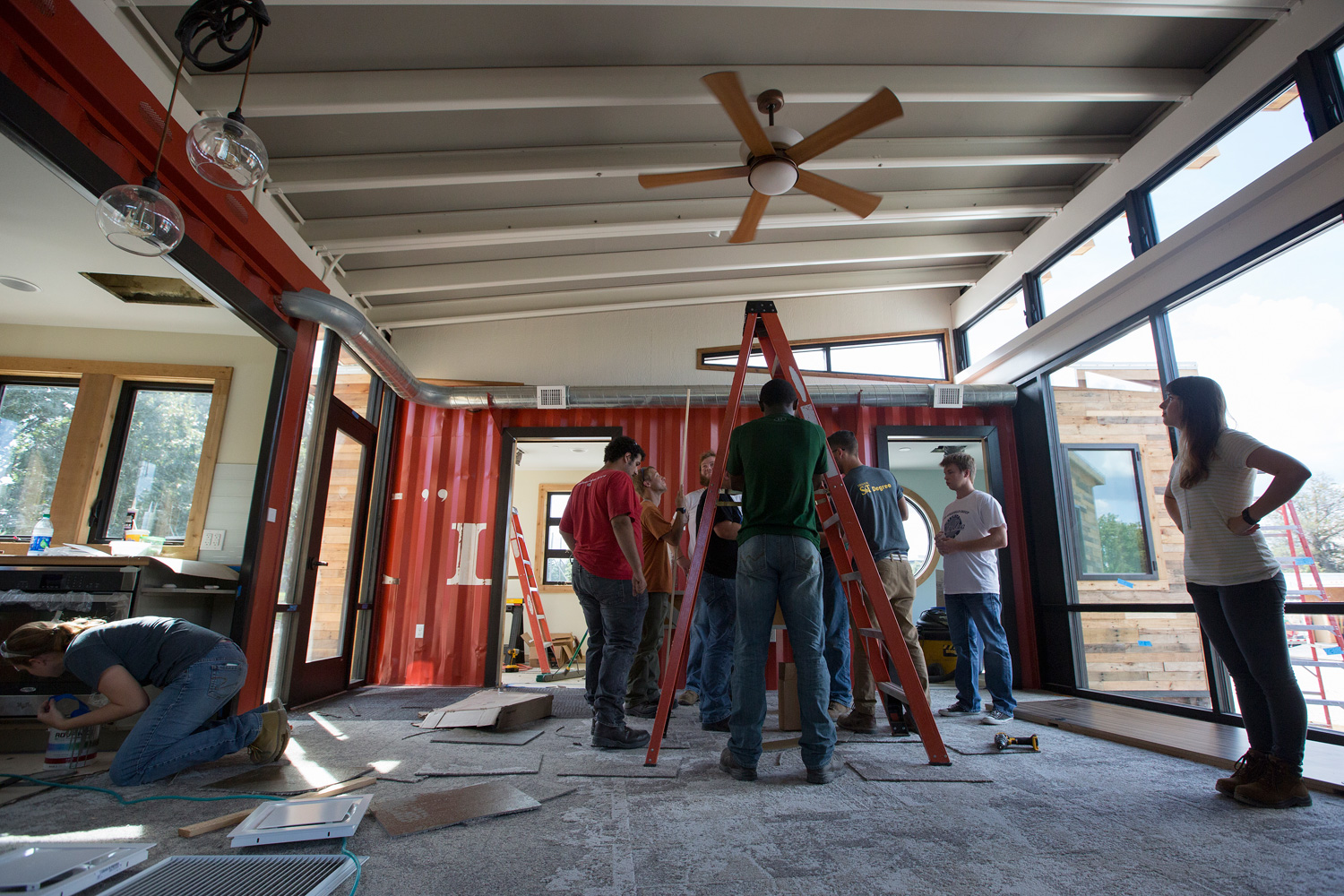 This year's solar house entry was designed for a growing family, a departure from previous plans. With two bedrooms, an office and an open-floor concept, the Nest Home was created to work for a couple with small children. But by adding or subtracting recycled containers, residents could modify the house as needed.
"Everything from the architecture of the home, to the expandability of the home, to the systems in place are designed and implemented to provide comfort and convenience for the residents," says Mary Puleo, the team's project manager and an environmental engineering senior from St. Louis. "However, its adaptable nature makes it ideal for any stage of family life, from a full nest to an empty nest."
More than a competitive entry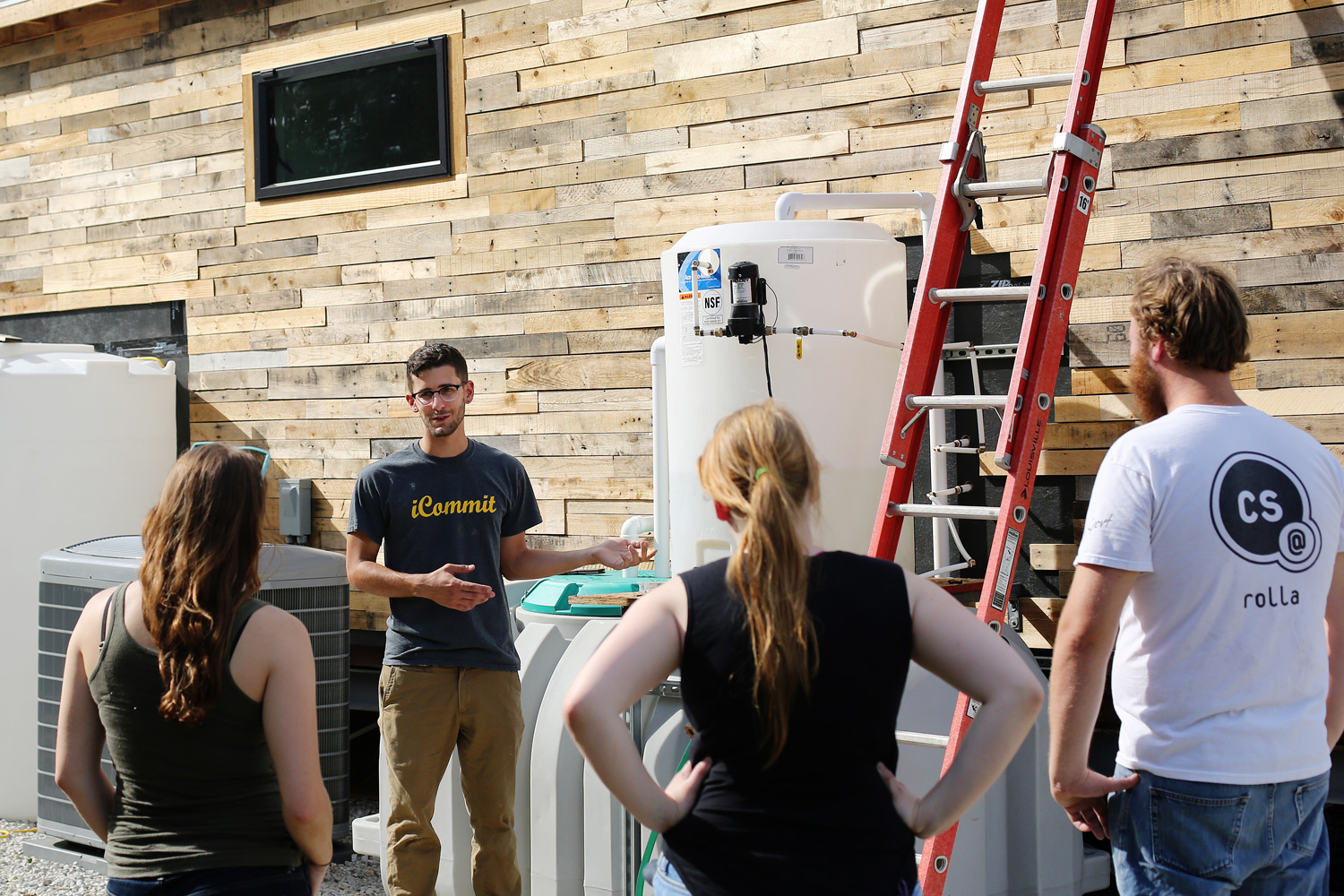 As usual, the solar house has been packed up and transported to the competition in Irvine, California. The team's entry is being judged on a variety of factors, such as affordability, living conditions, and energy production and consumption. But after the competition ends on Oct. 18, the sixth solar house will return to campus like the other houses before it – and that's when things get interesting.
Missouri S&T's Solar Village is already home to an experimental microgrid that manages and stores renewable energy for four student-built solar houses. The new house incorporates a hydroponic system, filtering water from the laundry, bathroom sink and other greywater sources through the tubes to nourish plants. The vertical wall system will reduce water usage and produce fresh food for residents.
"We also conduct biology experiments in the village and try to live sustainably there," says Julie Glenn, the team's secretary and a biological sciences senior from St. Louis. "This fall, we've spotted hummingbirds flying around and monarch butterflies on our milkweed plants in our garden, which is a certified National Wildlife Federation habitat. We also have a greenhouse where we grow herbs and veggies."
Story by Mindy Limback
Photos by Sam O'Keefe
Video by Terry Barner