Search Results for: summer camp
Who needs the campfires and bugs that traditional summer camps offer when you can learn how to detonate dynamite instead? [Read more…]
The new Ph.D. in explosives engineering wasn't the only new offering to explode onto the Missouri S&T campus over the summer. The campus erupted with young students in summer camps, teachers came for Project Lead The Way instruction, and a new walkway is being constructed next to the Havener Center. Here are a few of the things you missed over the summer:
Turf installation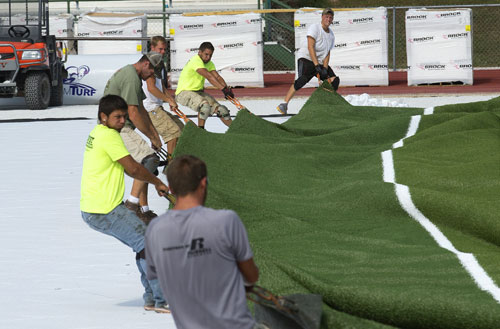 Construction crews installed the artificial turf at Allgood-Bailey Stadium the first week of August. The Miners play their first home football game on Saturday, Sept. 20. Crews also began installing turf on the intramural field this summer. The fields are striped for both soccer and football. [Read more…]

Missouri S&T gets a summertime energy boost when hoards of school-age kids hit campus. They come to S&T's summer camps for fun, inspiration and to learn some amazing things. These camps open their eyes to all the awesome possibilities available to them in science, technology, engineering and math careers, while they work as teams on exciting hands-on activities.
During high school, Manish Sharma often studied by candlelight. Power outages lasting six to eight hours a day were a fixture of hometown life in Khurja, India. For most of his peers, studying in America was a distant dream. But Sharma never gave up on his goal.
After earning a bachelor's degree in electrical engineering and a master's degree in nuclear engineering from universities in India, Sharma set his sights on Missouri S&T to complete his Ph.D. in nuclear engineering.
"I never gave up because I knew tomorrow would be better," he says. "I turned my plans into actions and went out of my comfort zone to make things happen." [Read more…]
Southwest of Rolla, 10 acres of land once farmed by some of the area's earliest settlers is now being explored by Missouri S&T students, who are themselves pioneers of a sort.
Students who took Field Ecology, Cave Biology or Vegetation of the Ozarks courses over the summer were among the first to spend more time in this outdoor laboratory than inside a classroom. They studied in and alongside three spring-fed ponds, a wetland fen, a nearby stream and countless flora and fauna. [Read more…]
Chartered in 1965 at the height of the civil rights movement, Missouri S&T's oldest African-American fraternity encountered obstacles on the way to its 50th anniversary, especially in the early years.
"There were some difficulties in getting the fraternity off the ground," says Henry Brown, a 1968 civil engineering graduate of Missouri S&T and one of 18 founding members of the Epsilon Psi chapter of Alpha Phi Alpha fraternity.
There was pushback from the university when Howard Manning, a 1967 civil engineering graduate, and Louis Smith, a 1966 electrical engineering graduate, transfer students and Alpha Phi Alpha brothers from Lincoln University in Jefferson City, approached administrators with the idea of establishing a chapter of Alpha Phi Alpha in Rolla.
Administrators questioned the need for a new, historically black fraternity when there were already a handful of nationally recognized fraternities at the university, Brown says. "But it wasn't a realistic possibility for us to walk up and join one of the fraternities already on campus," he says.
Using the clout of Lawrence C. George, who had agreed to be the fraternity's resident advisor, the students eventually convinced school administrators to approve the new fraternity. George, a respected Rolla chemist, was an alumnus of Alpha Phi Alpha's Beta Pi chapter at Dillard University.
With a resident advisor, the fraternity was now in need of a house. Once again, the fraternity got pushback – this time from local real estate agents.
"You have to think about what Rolla was like in the '60s – a small, Midwestern town," says Brown, a native of St. Joseph, Missouri.
The fraternity spent the spring and part of that summer contacting local real estate agents for house tours. Brown says that fraternity members had no trouble scheduling tours by phone, but when they showed up in person, they were almost always turned away.
With traditional housing options exhausted, George once again stepped in to help. He had an acquaintance who owned a former car dealership that was willing to sell the property to the new fraternity. It wasn't ideal, but the fraternity brothers worked every day that summer to rehab and convert the building into suitable housing.
George, who only stepped down as the fraternity's advisor in 2013, passed away in March. "He was very influential on not just us, but the well-being of all black students in Rolla," said Akil Hutchins, a senior in engineering management from St. Louis.
"He touched a lot of people's lives," added Lister Florence, 1995 civil engineering graduate and the fraternity's current advisor. "He was a father figure in my life."
Through a half century of service at S&T, Alpha Phi Alpha has been instrumental in forming a number of student and faculty organizations focused on diversity and inclusion, including the Association for Black Students, National Society of Black Engineers, the Chancellor's Advisory Committee on African American Recruitment and Retention, and Black Man's Think Tank. The fraternity also helped bring the Minority Introduction to Technology and Engineering summer camp to campus and created a number of scholarships for minority students.
With Alpha Phi Alpha's continuing involvement in diverse service projects and organizations on campus, the fraternity promises to be a voice for minority students for the foreseeable future.
Florence says he certainly owes a great deal to the fraternity.
"I don't think I would have become the man I am today without Alpha Phi Alpha," Florence says. "They did a really good job, not just with the fraternity members, but everyone, of reaching out to African-Americans, Hispanics and students of other nationalities. The door's were always open," he says. "They understood what you were going through. They understood what it was like to be singled out."
Nowadays, you may recognize an Alpha Phi Alpha brother as someone you emphatically high-fived last Friday at the entrance to the Havener Center, but the brothers of the Epsilon Psi Chapter do so much more than brighten your "Phriday."
Every February, the fraternity sponsors a National Black HIV/AIDS Awareness Day in conjunction with Black History Month. Members also organize outreach events in conjunction with their national organization, such as A Voteless People is a Hopeless People and Go-To-High School, Go-To-College. And they host Missouri's longest-running collegiate dance competition, Dance XXXPLOSION. The 2015 event will be held at the ARK in Waynesville, Missouri, this April.
The fraternity will also be hosting a week long 50th anniversary celebration centered around the chapter's charter day on April 27. The celebration will begin in earnest with a welcome reception on Thursday, April 23 at 6 p.m., and will feature a golf tournament, bowling tournament, flag football game, BBQ, and roast and dance. More details will be posted to the fraternity's website as the event nears.
By Greg Katski
Dylan Prévost, a senior in nuclear engineering from Wickenburg, Arizona, learned who he really is by overcoming adversity. His decision to attend Missouri S&T was a huge leap of faith in himself and his family.
Prévost's father was diagnosed with amyotrophic lateral sclerosis, also known as Lou Gehrig's disease, almost 11 years ago. His father was unable to continue working due to the illness, while Prévost's mother stayed at home to help care for him. As the family downsized, the possibility of a college education became more and more uncertain.
"Finding the financial backing to attend college has been a challenge," admits Prévost. "But I dream big and want to be able to help my family in the future."
Prévost applied for dozens of scholarships hoping to study nuclear engineering. Once he chose Missouri S&T, he moved to Missouri to qualify for in-state tuition.
Last fall, Prévost was awarded the Pursuit of Life Scholarship from Team Orion, a group of three young alumni who founded the scholarship with funds left over from their senior design class. The alumni, each of whom overcame immense adversity to get to S&T and graduate, agreed that the best use of the leftover money would be to give it to a student in need. Team Orion awarded two scholarships to students who demonstrated perseverance and ambition, and overcame adversity in their lives.
In addition to his coursework, Prévost has worked various jobs on campus since starting at Missouri S&T in 2011. As a research assistant for Ayodeji Alajo, assistant professor of nuclear engineering, Prévost currently works to design a liquid thorium-fueled modular nuclear reactor that would be safer than existing reactor technology. He hopes to continue his education through graduate school to study computer-computational transport and how to improve the design of nuclear reactors.
"Nuclear energy is going to play a large part in the future of the world's energy production," says Prévost. "I want to dedicate my life to promoting cheaper, cleaner energy for everyone."
In addition to his research, Prévost is a counselor at Missouri S&T's Nuclear Engineering Summer Camp. He has been president of the American Nuclear Society student chapter at S&T for two years and is a member of the Phi Sigma Pi honor fraternity.
"My family has been through some struggles, but nothing is stronger than family and I have had great support from them," says Prévost.
Read more about Team Orion and the Pursuit of Life Scholarship in the latest issue of Missouri S&T Magazine.
Anan Takroori appears in a video about S&T's summer camps:

Seven years ago, Anan Takroori left his home in Palestine with his eyes set on earning an aerospace engineering degree. He landed at St. Louis Community College for a few years before transferring to Missouri S&T in 2010.
No one told her she couldn't do it. No one, that is, but herself.
Christina King graduated from Owensville (Missouri) High School in 1997, and her path was clear — and it didn't include college.
"It wasn't really anything I thought I could do," King says. "Coming out of high school, I wanted to get married and start a family. Going to college wasn't anything I even thought about."
Eighteen years later, that thought has been turned upside down, and King is set to become a December 2015 graduate of Missouri S&T with a bachelor's degree in mathematics.
Before coming to Missouri S&T, King's path was just as she envisioned it. She married her high school sweetheart, Jason. She had two girls, Kaitlynn and Cassidy.
Before she knew it, King's children were school age. And with Jason gone for a week at a time working as a welder on railroad bridges, King needed something to do. When her youngest daughter Cassidy, now 15, was in kindergarten, King volunteered at the girls' school.
The seed was planted for her college career to come.
Growing up in rural Missouri, Jamielee Buenemann learned firsthand that many small-town residents are wary of renewable energy.
"People think it is either too expensive or too complex," she says.
As a high school junior, Buenemann set a goal to demystify renewable energy and make it a reality for the average citizen. She also made this project the focus of her Girl Scout Gold Award. [Read more…]