Julie Meyer, a senior in history and secondary education, started her S&T career as an accomplished athlete in both volleyball and women's basketball. Last season she focused solely on basketball. Her decision paid off as she helped lead the Lady Miners to a share of the Great Lakes Valley Conference West Division title (the first title since 1995-96 and the first one as a member of the GLVC) and an appearance in the NCAA Tournament for the third time in school history.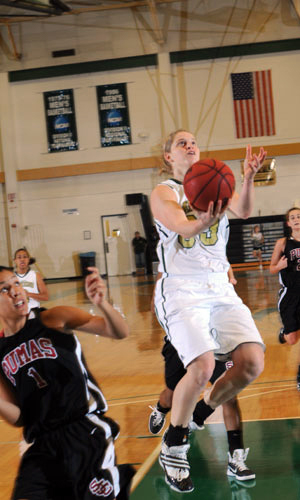 What is your best S&T sports memory?
We had many great games and accomplishments throughout last year's season, but my favorite was our victory against Drury, which snapped a 13-game losing streak to them. That win also gave us a share of the GLVC West Division Championship. Drury is always a much-anticipated game, and it was fun to come out and play well and come away with a win.
How much fun did you have on the court last season? (School record 11 straight wins, GLVC West Division co-champs, NCAA Tournament.)
Last season was probably the most enjoyable sports season of my life. It was fulfilling to set goals before the season like being division champs and earning an NCAA tournament berth and actually go out and accomplish them. During our 11-game winning streak, the team had a lot of fun and it really brought us together. The streak really motivated us to come to practice and get better so we could continue winning. The game came so easy and all of us just knew what our role was and what we had to do to win. As it was happening it was exciting, but looking back now it is even more special.
How has the end of last season inspired you for this season?
The losses in the conference and regional tournament last year were big disappointments. At the end of a great season, that took away from some of the accomplishments during the regular season and definitely left us eager to get back on the court this year to prove that we're better than what we displayed in our final two games. We know that ultimately end-of-season games are what really count, and will look to increase our focus at the end of the season to advance further in both the conference and national tournaments.
By Luke Rinne
More Missouri S&T sports.
Read additional stories from the Fall 2011 issue of Missouri S&T Magazine.