"The whole object of travel is not to set foot on foreign land; it is at last to set foot on one's own country as a foreign land."
-Gilbert K. Chesterton
---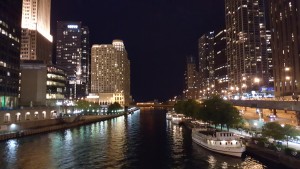 As I write this reflection my classmates and professor have returned to their homes. Have I not? Well I have, but my trip home was a mere 20 minute train ride versus their 6+ hour drive. I'm Kelly Pachowicz, born and raised Chicagoan and a student in the inaugural class of Dr. Schramm's two week course, History 4001- Chicago: Architecture, Technology, and Culture.
From the time I heard about the class I knew I had to enroll. As soon as finals were over I made my trek back home from S&T and the next day we started class. The agenda was filled and I was with excitement. Most of the places we planned to go I had never been to myself. I truly was going to experience my city-which I thought I knew so well-as I never had before. I did not stay overnight at Roosevelt University with everyone, so I did my typical local morning routine and would diligently take the bus to the 'L' train and then walk the remaining block to meet with everyone in the morning. And even though I have seen it countless times, the lake still is picture perfect; contrary to some belief, most Chicagoans don't get the view from 18 stories up everyday.
The numerous tours we took showed us all more and more insight on the history of the city I call home. Admiring the ornament on buildings to walking through them, we got intimate with the ideas of architects that came to fruition. I had never been in such buildings as The Rookery (atrium redesigned by Frank Lloyd Wright in 1905) or the Chicago Board of Trade Building (built in 1930 in all its Art Deco glory). However, there were buildings I had been in before like the Auditorium Theater. My high school graduation took place in one of the finest Adler & Sullivan buildings to survive, but now I was seeing it with new eyes, able to appreciate the details and notice all the peculiarities like the floor sloping due to the building's settling.
But overall, the only tour I had taken on my own before this class was the one of Frank Lloyd Wright's Robie House in Hyde Park. I drove myself that day and found parking a couple blocks away. I enjoyed my walk through the leafy University of Chicago campus and met the group there. The last time I was here was about a year ago, but the house still stood strong and true to its form and finest example of the Prairie Style. Each tour is different though, and with ongoing restoration, some things were different over the course of the year and so I was once again seeing a part of my city as a newcomer once more.
Chicago is only one of my homes, but it is the one I know the best. She welcomes you home and welcomes visitors to marvel at her sights. And even though I have lived here for over 20 years, there is still much to see and explore in technology, culture, and yes, architecture.