While studying abroad in Greece in the spring of 2012, Samantha Kempker visited the Oracle at Delphi, took a day trip to the ancient city-state of Sparta, feasted on genuine gyros, and visited the Lions Gate in Macedonia and the Temple of Poseidon. She rode on public transportation for the first time in her life, and she stayed in the same apartments that housed the 2004 U.S. Olympic team. She studied about 30 minutes from the center of that spring's unrest in the Greek capital of Athens.
I learned so much about Greek culture, and also about my culture back home," says Kempker.
For Kempker, the chance to study overseas through Missouri S&T's study abroad program was the realization of a longtime goal. "I've wanted to study abroad since I was 13," says the senior in psychology from Taos, Mo. "I learned so much about Greek culture, and also about my culture back home," she says. "And I learned a lot about myself — what I like and don't like, and just how brave and independent I could be."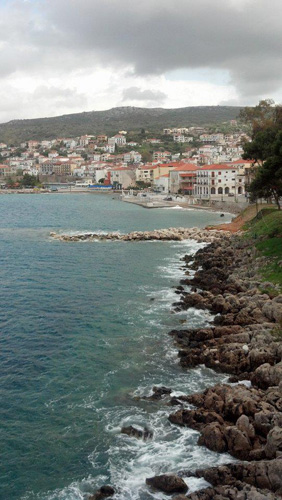 Kempker is also studying Greek life of another kind. As part of an Opportunities for Undergraduate Research Experience project on campus, she has evaluated the effectiveness of a new program that promotes responsible alcohol use among fraternities and sororities. Kempker's OURE project evaluated how well a newly formed S&T chapter of a national student group, called GAMMA, achieves its goal of promoting responsible alcohol use among S&T's Greek-letter societies.
Under the direction of Amber M. Henslee, an assistant professor of psychological sciences, Kempker surveyed fraternity and sorority students about their perceptions of alcohol use before the students of GAMMA (which stands for Greeks Advocating the Mature Management of Alcohol) begin their program. She then conducted follow-up surveys to see whether GAMMA's efforts affected students' perceptions. Though not a member of a Greek-letter organization, Kempker has pursued the research because it fits well with her interests as a psychology major.
Kempker showcased her research on GAMMA at the ninth annual Undergraduate Research Conference this past April. Her project, "Evaluating the Acceptability of GAMMA Among Greek-affiliated Students," earned her second place in the social sciences poster session category.
Greek life — the American kind — is not a big deal in Greece, Kempker discovered during her semester abroad. There are no fraternities or sororities at Athens' The American College of Greece-Deree. But she studied alongside Greek students, as well as other Americans and fellow S&T classmate Nick Angles, a computer engineering major.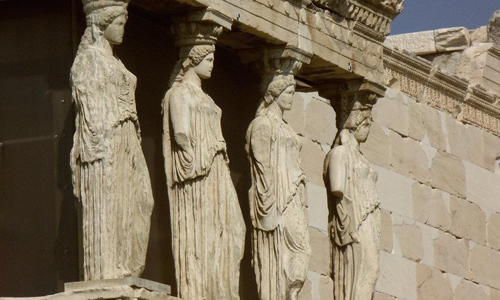 Under the guidance of three academic advisors, she and her fellow U.S. students traveled across Greece, visiting ancient ruins of the cradle of democracy. They enjoyed traditional Greek foods — pastitsio, baklava and gyros — and shopped for authentic clothing and jewelry. (She even purchased a real Greek toga.) They also learned how Greeks perceived Americans.
"They have a perception that most Americans are just work, work, work, work, work," she says. "'Too busy' is the best way to describe how they see us."
But she found the people of her host country to be "very hospitable, very accepting."
She highly recommends study abroad for any student.
"When are you ever going to have the chance to take four months out of your life to do something like this?" she says. "When you're in college, you have the opportunity. So why not?"