Jonathan Bopp, a sophomore in mechanical engineering from Kirkwood, Mo., is the epitome of a team player. A second-year member of the Mars Rover Design Team, Bopp spends nearly every spare hour he has in the Student Design and Experiential Learning Center working to perfect the next Mars Rover.
But that isn't unusual for a student design team member at Missouri S&T. What sets Bopp apart is his single-mindedness in designing a robotic arm that can perform all the functions the Mars Rover will need, such as the ability to retrieve tools, collect soil samples and maintain equipment in the field.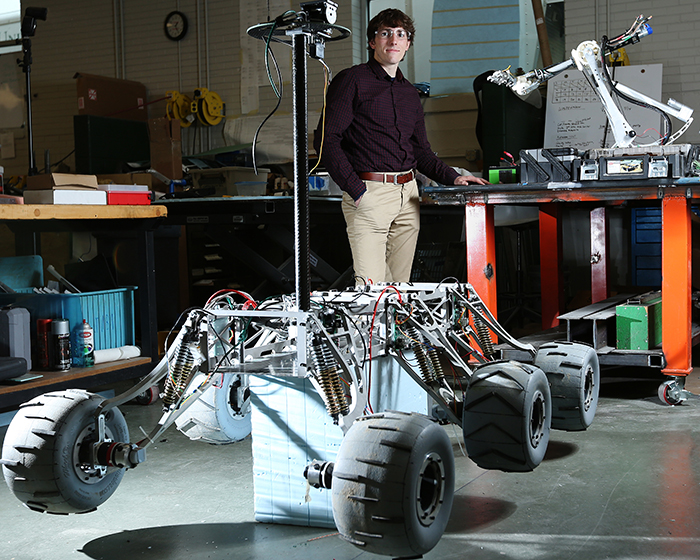 Bopp saved the money he earned during a 2013 summer internship at Molex in Little Rock, Ark., and bought a 3-D printer solely to prototype his rover designs. He used the printer to build plastic models of the gears and drills that are used on the 2014 rover.
"Without 3-D printing, there would be no way we could have implemented such innovative designs and concepts and know that they would succeed," says Bopp. "I learned a lot from last year's rover, when we built a soil extractor that resembled a 'bird's beak' design. It worked okay, but this year I focused on designing the arm to have six degrees of freedom, be light-weight and still 'look cool.'"
Bopp also tested the gears for durability. He says he and the other team members were a little concerned about the plastic's ability to withstand wear and tear, but they liked the cost and weight efficiency of 3-D-printed parts. The team's current testing proves the gears will hold up well.
"Everyone on the team is working their hardest to be competitive and design the best rover possible," Bopp explains. "Even though I don't get paid to be on a design team, this is where I want to be and what I want to do in the future. I love robotics."
Bopp, who is also a member of the Missouri S&T Rock Climbing Club, will intern at Spartan Light Metal Products in Mexico, Mo., this summer. He already has permission to take time off for the University Rover Challenge, which will be held May 29-31 at the Mars Desert Research Station in Hanksville, Utah.