On a sweltering summer afternoon, a mother of three pulls in to a parking space parallel to the Tropical Sno stand at the corner of 10th Street and Forum Drive in Rolla. Ryan Priesmeyer is leaning out of the front window to greet her and her children with a smile. A tow-headed boy with red cheeks is crying uncontrollably. A brown-eyed girl with pointy pigtails is tugging at her mother's shirt and a tall, thin teenaged boy is mostly removed from the situation.
"How can I help you?" Priesmeyer asks, then takes the woman's order.
Soon, cups piled high with brightly tinted ice shavings are passed through the window. The crying dies down; the tugging stops; and the teenaged boy smiles.
This is a scene that Priesmeyer has repeated time and time again this past summer as manager and owner of Tropical Sno.
The Rolla High School graduate recently bought the stand outright from previous owner Dr. Judd Boehme, a Rolla dentist who moved out of state. Priesmeyer expects it to help pay his tuition at Missouri S&T, where he plans to major in mechanical engineering this fall.
"It's going to put me through college, which I'm really happy about," he says.
When Boehme announced that he and his family were moving to Nevada to be closer to family, he gave first dibs on the sale to Priesmeyer, who took over the stand in April — two months shy of high school graduation.
Priesmeyer is confident he can balance college classes and schoolwork with running the stand, which usually stays open through September. "I like to stay busy," he adds.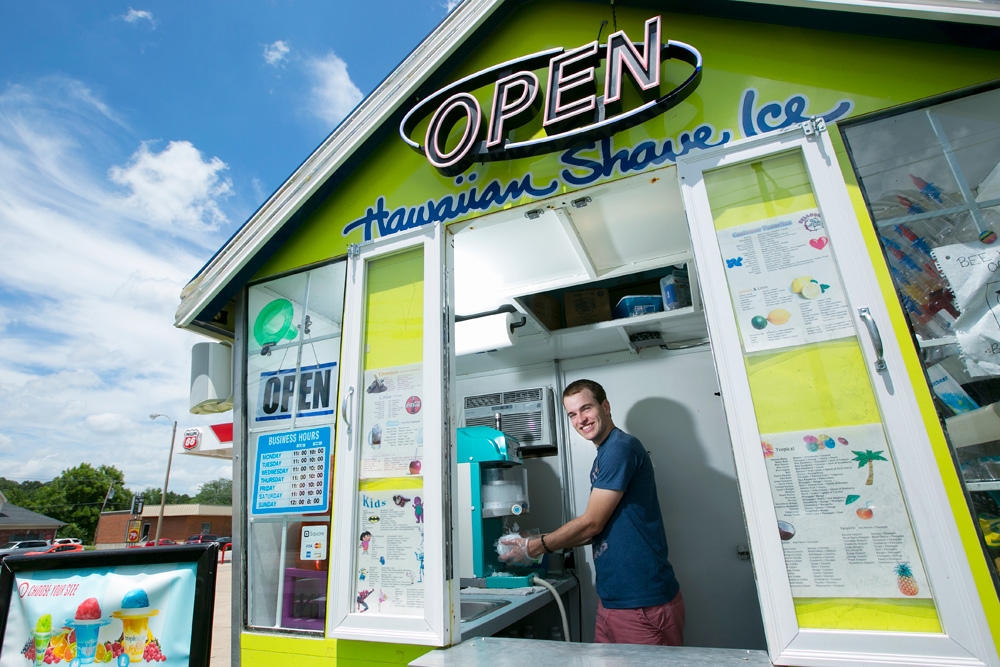 Priesmeyer met Boehme through a friend who worked at Tropical Sno. Boehme asked Priesmeyer to manage the shack while he was out of town and was impressed with his work. Their friendship and trust grew from there.
"It was an amazing friendship that we built," Priesmeyer says.
Boehme showed Priesmeyer how to manage the money for the business, place orders and make snow cones.
"I'd be over at their house late making snow cones," Priesmeyer says. "I learned how to make the flavors and how to order from Tropical Sno. All the little things you think of behind the scenes."
Priesmeyer says the transition from managing the stand to owning it was seamless.
"I already knew what I was doing whenever I fully took over," he says, adding that he feels good about owning a business at such a young age.
"I know that sounds really arrogant, but I'm a business owner."
He's also happy to be keeping a Rolla landmark in town.
"I'm glad the shack is staying in Rolla because it's a Rolla thing," he says. "This stand has been here most of my life. It's like a tradition for me.
"As a kid, I never thought I would own it. I went there all the time," he says. "The fact that I own it now is awesome."
Story by Greg Katski
Photos by Sam O'Keefe